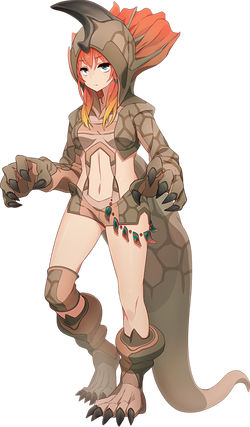 Kaiju Girls (怪獣娘 Kaijū Musume) are moe anthropomorphization of the monsters, aliens, and mechas of the Ultra series.
Kaiju Girls are girls who contain the souls of past monsters have appeared and possess the ability to summon their inner monster forms. They formed an organization called GIRLS to collect and train other Kaiju Girls.
This version is the most well known and has the most Kaiju Girls of them all, by having over 80 of them.
The Kaiju Girls star in the anime, the Galaxy days manga, the Beginning stories novel, the Galaxy days 4-panel gag manga, the Ultra Special Training Campaign mobile game and several other games as crossovers.